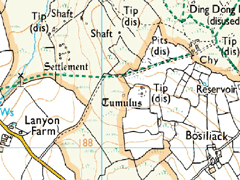 Bosiliack Barrow is a small Neolithic (3000-2500 B.C.) Scillonian entrance grave consisting of an approximatelty 16 foot diameter circular mound of stones. The kerb of larger slabs is pierced by a passageway that faces the rising of the midwinter sun after the shortest day of the year. A small stone set in the entrance to the chamber is believed by some to be a blocking stone used to seal the tomb. Unfortunately the flat stones which would have roofed the tomb are no longer present, leaving it open. What remains now is most of the outer retaining circle of large kerb stones. About Bosiliack Barrow
Megalithic Portal: Bosiliack Barrow
Megalithics: Bosiliack
Modern Antiquarian: Bosiliack Barrow

Journey to Bosiliack Barrow Bosiliack Barrow is located to the north of Lanyon Quoit in the West Penwith area of Cornwall. Marked on the OS map as a Tumulus, it may be reached from the Madron to Morvah road and taking a trackway before Lanyon Farm that leads up to the Ding Dong mine.
Map

Visitors Information Visitors information for Bosiliack Barrow may be found at the Cornwall Guide website. For Penzance and general West Cornwall tourist information, visit the Penzance Online website. Photos of Bosiliack Barrow
Photos to appear Summer 2011.